Need Help?

Chat with us during office hours by clicking the red Live Chat button!
You can also email us at info-usa@mbt.com or call us at (877) 623-4198
Monday through Friday 8:00 a.m. - 5:00 p.m. CST
Saturday 10:30 a.m. - 2:30 p.m. CST
Details
| | |
| --- | --- |
| | Each pair of Masai Barefoot Technology (MBT) Shoes comes with an insole made from high quality foam creating a layer of orthopedic padding that provides extra cushion with every step. This along with the MBT patented heel sensor helps to reduce impact on knee and hip joints making them ideal orthopedic shoes. |
The Hana ballet-style slip on walking shoe is so simple, yet so stylish, age becomes inconsequential, as everyone who wears this comfortable, practical slip-on walker instantly gets an added bounce to their step.
UPPER is made of Breathable Mesh
FOOTBED is mesh for breathability and removable for custom fit
OUTSOLE is made of MBT High Abrasion Rubber
MBT LEVEL 2 ROCKER features a medium-strong sole curve providing ample cushioning and muscle activation for all day everyday wear.
ROCKER BOTTOM SHOE – From the point your heal first hits the ground until your toes leave it, the curved sole of the MBT rocker shoe matches the natural movement of your foot while giving the same stability as a traditional walking shoe. The gentle roll promotes a natural cushioning to your feet and the angle of the PivotAxis, critical to the Pivot Strike location at the midfoot, provides the ideal foot striking platform to transition into propulsion or a forward movement while enhancing support.
TECHNOLOGY IN THE SHOE – MBT's proprietary SensorTechnology in the heel produces a natural cushioning required by a short or long distance walker. The PivotAxis Technology promotes balance and a natural movement that with each stride activates muscles required for good posture. The lasting board and engineered shank are specially developed for the MBT sole construction which provides comfort & support.
CREATED WITH STABILITY IN MIND – The stability of the MBT shoe is identical to any high-quality walking shoe and the only roll you feel is from your heal to your toes. There is no side to side roll so run or walk with confidence. The Tri-density Midsole features extensive cushioning that allows for a better ride.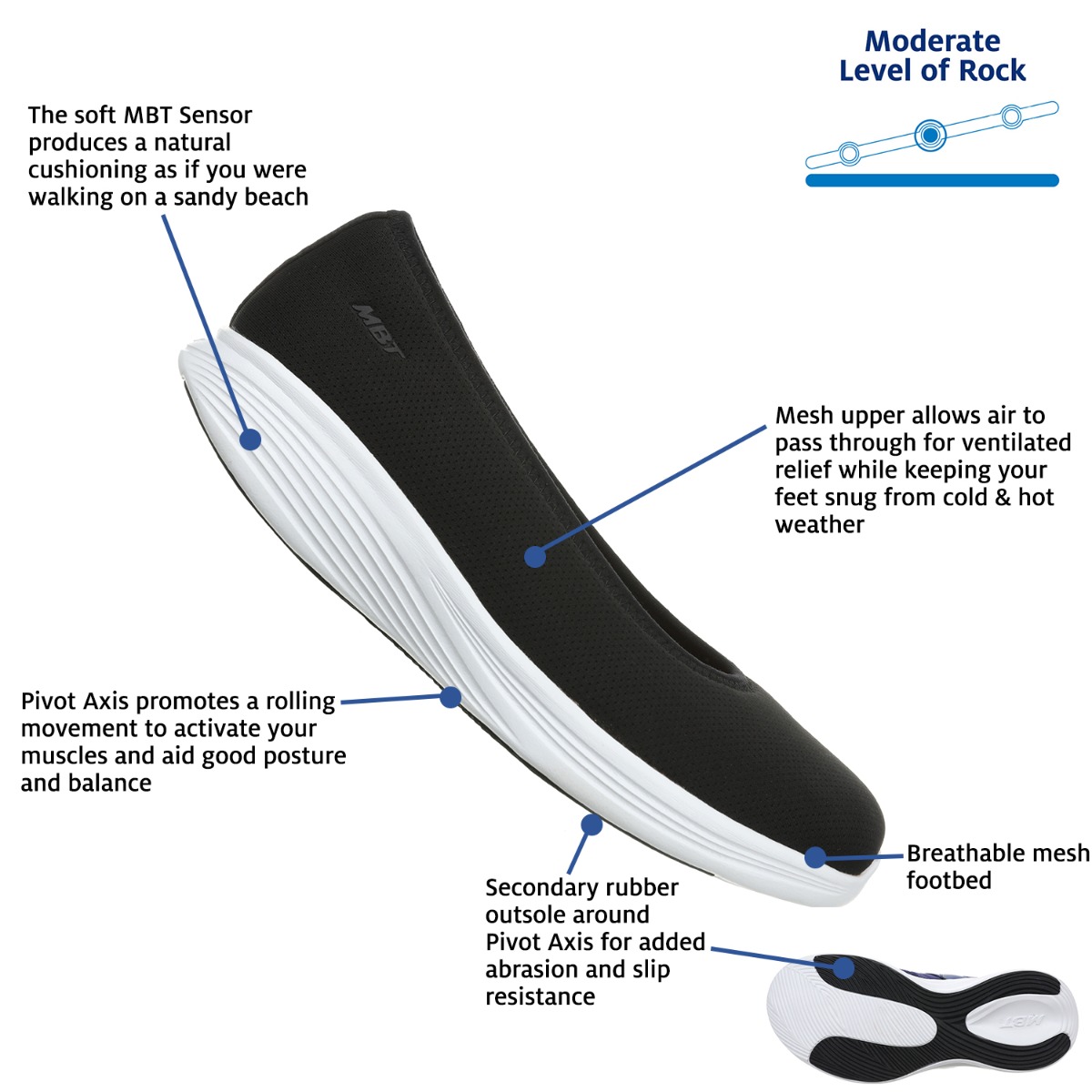 Women's Sizing Chart for Casual Shoes

Need Help?

Chat with us during office hours by clicking the red Live Chat button!
You can also email us at info-usa@mbt.com or call us at (877) 623-4198
Monday through Friday 8:00 a.m. - 5:00 p.m. CST
Saturday 10:30 a.m. - 2:30 p.m. CST